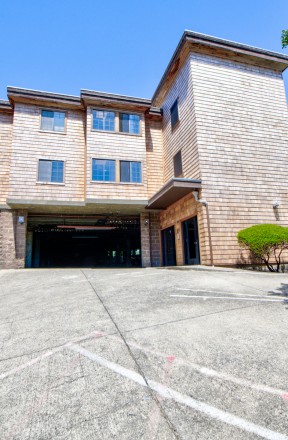 20 Units - San Rafael
20-Unit Apartment Complex
•

$7,100,000

SOLD
First time on the market in 30 years. Designed and built by and for the current owners. Original management still in place. Many long-term tenants. Most units with only one or two adults.  No pets. Upside in rental income.
285 Woodland is a three-story security building built in 1989 and located on the border of the Gerstle Park area of San Rafael.  It has a hilltop setting offering views across San Rafael for most tenants.  There are two levels of apartments over the ground floor garage area.  The apartment levels are served by an elevator inside a secure entrance with stairways at each end of the building. The building is fully fire-sprinklered.
The building is wood frame construction with a shingled exterior. Apartments are all electric and separately metered.  Heat is provided by baseboard electric and each room is individually controlled.  All the floorplans offer the same large kitchens as the 2BR units and include a refrigerator, dishwasher, stove and disposal.  There is an interior roof access on the top floor.
Overall, the property seems to be in excellent condition. The roof was replaced one year ago, as were many of the shingles and decks. The property recently passed the rigorous San Rafael Code Inspection.
All apartments have sliding glass doors to a private view deck or patio. All windows are dual pane with decorative inserts.  Floor plans include 4-2BR/2BA (965 sf), 4-2BR/1BA (910 sf), 8-1BR/1BA (710 sf) and 4-studios (535 sf). One of the studios is handicap accessible.
All units are tenant occupied.  Please do not disturb.  OK to drive up the driveway for a closer look; however, Interior showings by appointment only.
Tentative Showing Schedule:  Wednesday 2-3 pm and Thursday 11- noon, June 5, 6, 12 and 13.
Offers by 5:00 pm, June 18, 2019 – Call for preferred terms, rent roll and any disclosures.
Pre-Sale escrow open with Diana McInnis of Old Republic Title Company.
The current resident manager of 30 years is retiring. Her daughter and assistant manager of 12 years would consider staying on for a new owner if needed.

Michael Burke

Lic#00454938
415.877.1077
mburke@marinapartments.com
MarinApartments.com | My Bio
DISCLAIMER: The information set forth on this site is based upon information which we consider reliable, but because it has been supplied by third parties to our franchisees (who in turn supplied it to us) , we cannot represent that it is accurate or complete, and it should not be relied upon as such. The offerings are subject to errors, omissions, changes, including price, or withdrawal without notice. All dimensions are approximate and have not been verified by the selling party and cannot be verified by Decker Bullock Sotheby's International Realty. It is recommended that you hire a professional in the business of determining dimensions, such as an appraiser, architect or civil engineer, to determine such information. Sotheby's International Realty ® is a registered trademark licensed to Sotheby's International Realty Affiliates LLC. Each Sotheby's International Realty office is independently owned and operated.
The above information including square footage is based on data received from the seller and/or from public sources. This information is deemed reliable but has not been independently verified and cannot be guaranteed.